How to Write Press Releases With 21 Examples and 7 Templates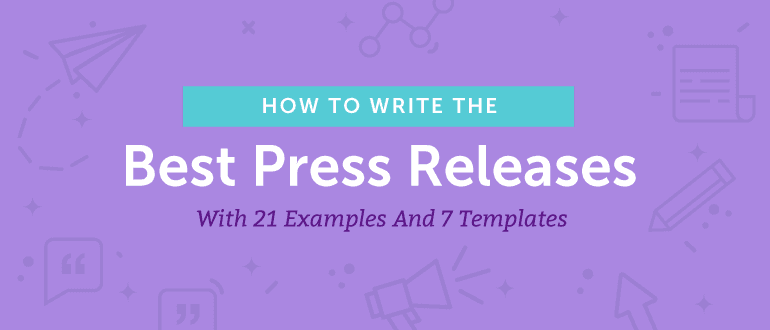 Every marketer should know how to write an effective press release. They're essential for ensuring the media and public know your latest news.
Plus, they can be cost-effective. Aside from paid distribution, they only cost your time to write.
However, you need to know how to write them well. Journalists[1] are extremely busy and only respond to the best pitches[2] they receive. If you send something sub-par, it will get deleted.
Fortunately, if you spend the time to get it right, you can tilt the odds in your favor. In this post, you'll learn:
How to identify newsworthy angles people care about. Every good news story should have a hook.
The best way to write and format press releases for easy readability. Learn how to do it right the first time, every time.
What to do to make sure your release gets read (and drives results). Stay out of the trash folder and make a real impact on your business.
Plus, you'll find several templates and examples to follow. By the time you're done, you'll know exactly how to get your organization the attention it deserves.
Get Your Press Release Templates …
Don't write releases from scratch! Instead, use this free template to make sure you nail the formatting every time. Plus, snag
Press Release Template (Word): Take the hassle out of writing and formatting press releases with six different templates.
Press Release Pitch Template: When you send a press release, you might also need to send a pitch email. Use this template for that.
All of which will help you format and create killer press releases quickly and efficiently.
… and Browse 21 More Press Releases Samples and Examples
Sometimes it's easier to replicate success when you have examples to follow. Here's a selection of press releases curated from around the web:
What is a Press Release, Anyway?
News releases are usually one or two-page documents that share breaking news with the public. They're typically read by journalists, but sometimes general audiences might stumble upon them, too. Typically, they emulate a news article format, using the reverse pyramid to place the most important information first.
Why Should My Business Send Press Releases?
Organizations of all sizes use press releases to achieve all sorts of goals[5]. Some common objectives include:
To get media coverage. This would be when your company releases a new product or feature.
To build your brand's reputation. Maybe you're re-launching your brand image and want more people to know.
To manage a crisis. When things go wrong, it's often beneficial to break the story yourself first.
To build back links from trusted media sites. This could be when you publish a new e-book, report or blog and you want a reputable source to link back to the information.
As a cost-effective way to market your organization. A well-written press release can help garner public attention due to news coverage.
What kind of results can old-fashioned PR get (without spending a lot of money)? Watch this video to learn:
This slide deck from Raven is also useful for silencing any doubters:
When Should I Send a Press Release?
Any time you have something newsworthy to share. This includes:
Breaking news announcements: News outlets want to be first to cover news when it breaks. So, lend them a helping hand.
Product launches: New products often make for good news pieces.
Events: These can offer reporters something timely and interesting to share with their audiences.
Partnerships: If you team up with another interesting company, the news may want to know.
Sharing research: Unique data and original insights are always interesting.
Awards: Don't be afraid to talk yourself up (a little bit).
Hiring new executives: At larger organizations, this can be considered important news.
Crisis management: When something bad happens, it's best to get in front of it (before someone else does).
Make sure you have something your audience (and the media's audience) will care about. This will dramatically increase the odds that your release will earn coverage.
What Information and Content Should a Release Include?
Here's what you should include in your press releases:
Headline: Be sure to make it clear why your story is interesting and important.
Press Contact: How can the media get in touch with you?
City, State, Location: Where are you, and where is your news happening?
Body copy: Order information by level of importance.
Boiler Plate: What's your organization all about?
What is the Best Way to Format Your Press Release?
Press releases generally follow a familiar format. By keeping your formatting consistent, reporters will always know where to look, for which information. So, what does a formatted press release look like?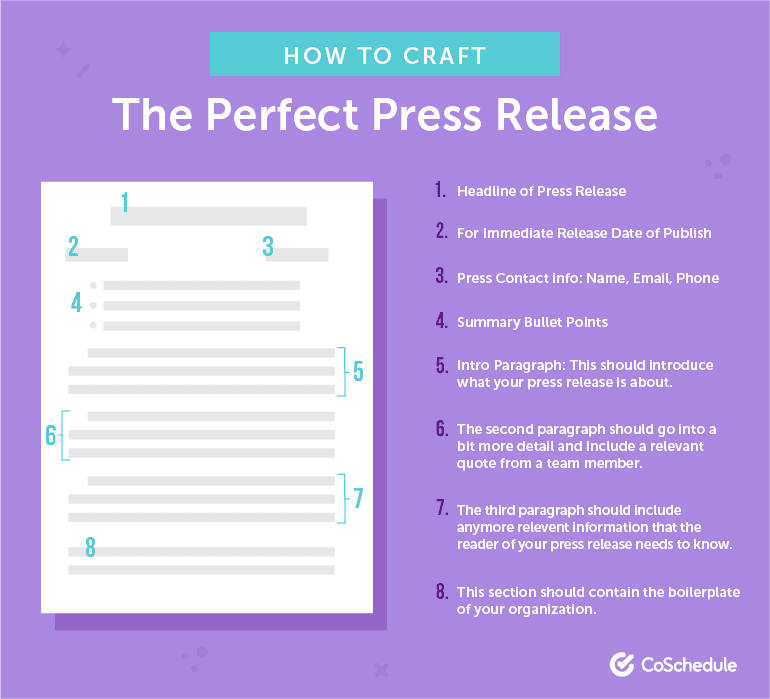 Looking for a more simple press release outline you can format yourself? Copy and paste this outline into any word processor:
For Immediate Release
Name of Press Contact:

Date:
Phone:
Email:

[INSERT HEADLINE]
Summary Bullet Point One
Summary Bullet Point Two
Summary Bullet Point Three

[CITY], [STATE] – Introductory Paragraph

[QUOTE]

[Second Paragraph]

[Third Paragraph]

[QUOTE]

Closing Paragraph

[BOILERPLATE]
Five Different Types of Releases (And Why They Work)
If you're stuck with a bit of writer's block here are five press release examples to help inspire you.
1. Apple Product Launch Press Release: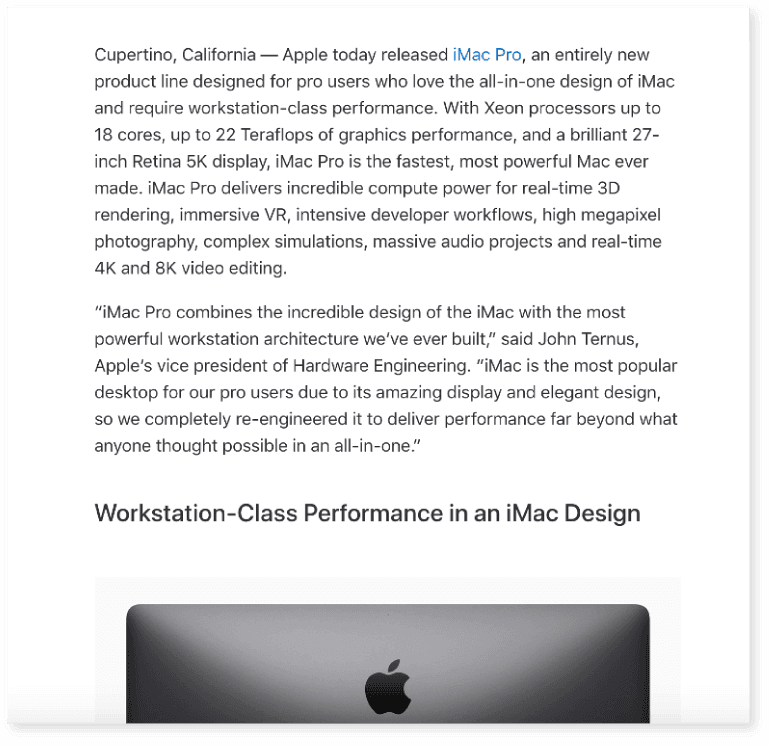 Why This Works:
Apple goes in depth describing the new model of the iMac.
They highlight the different features of the product and point out the improvements.
They include images that highlight the new design of their product.
2. Thrill of the Hunt Event Press Release Example: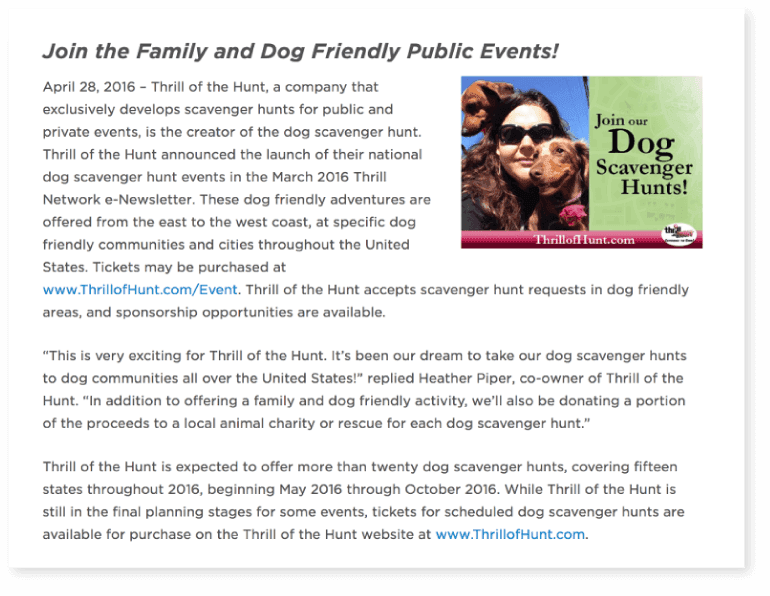 Why This Works:
All the details of the event in the introduction.
Heather Piper's quote matches the overall tone of the press release.
The website is posted throughout, making it easy to find.
News Release Example From CNN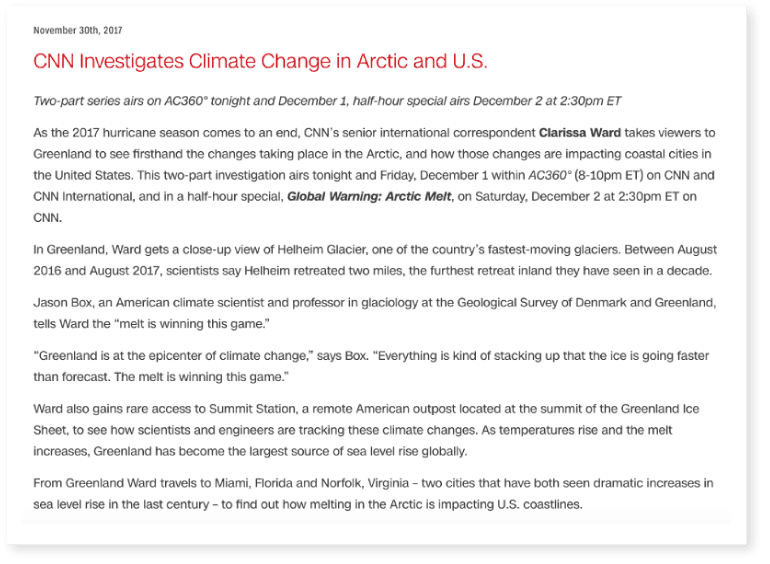 Why This Works:
The title explains what's happening.
It explains the when the event will begin and end as well as what is supposed to happen throughout the night.
It's short and concise.
New Hire Press Release From EverBlue Training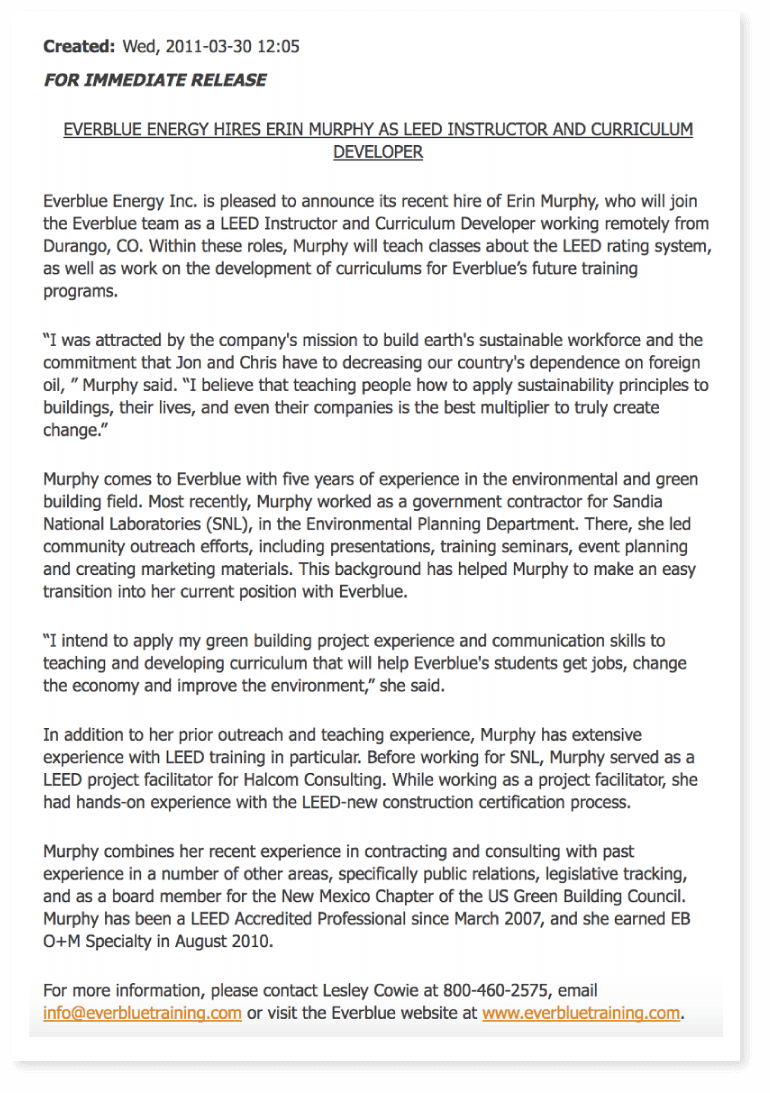 Why This Works:
The name and title of the new hire are in the headline.
It contains a quote from the new hire.
It explains the new duties and jobs that the new hire will take on.
Research Press Release Example from The Hormel Institute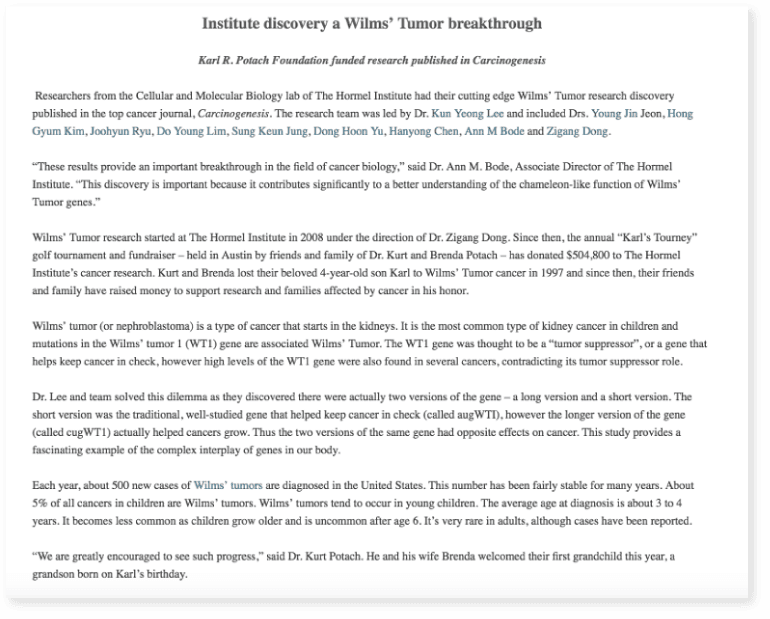 Why This Works:
It includes the research team that discovered the breakthrough.
It explains the background of the research and how it got started.
It also explains what disease the research is helping cure.
Five Basic Press Release Writing Tips and Best Practices
Now that you've got a solid template to follow here are five tips to help you create a valid press release.
1. Think Like A Journalist
If you're writing a press release to send to a journalist you need to think (and write) like a journalist. You need to be able to pitch a story that captures the attention of the journalist you're pitching to. Some tips to keep in mind:
Make the information they need easy to find.

 Don't bury the lead for your reader. Tell them upfront what the purpose of your press release is.

Keep your press release short and sweet.

Your journalist is busy, don't waste their time with fluff.

Don't overdo it.

 Everyone's organization has the best event, the best new product the best whatever it happens to be. Just don't start your press releases with that kind of clichés.
2. Make Sure Your Story Has Value to a Publication's Audience
If you're a software company sending a press release to a publication that writes about pick up trucks, why would they run a story about your organization?
When determining where to pitch your story, ensure that:
Their readership or viewership aligns with your target audience

. Do both your audiences care about the same things?

Their coverage area aligns with your product or service. Will the publication care about your company?
You can do this by reading a few issues of a physical publication, or by spending some time on their website.
3. Follow the Inverted Pyramid
This format entails putting your most important information first. Follow this visual guide: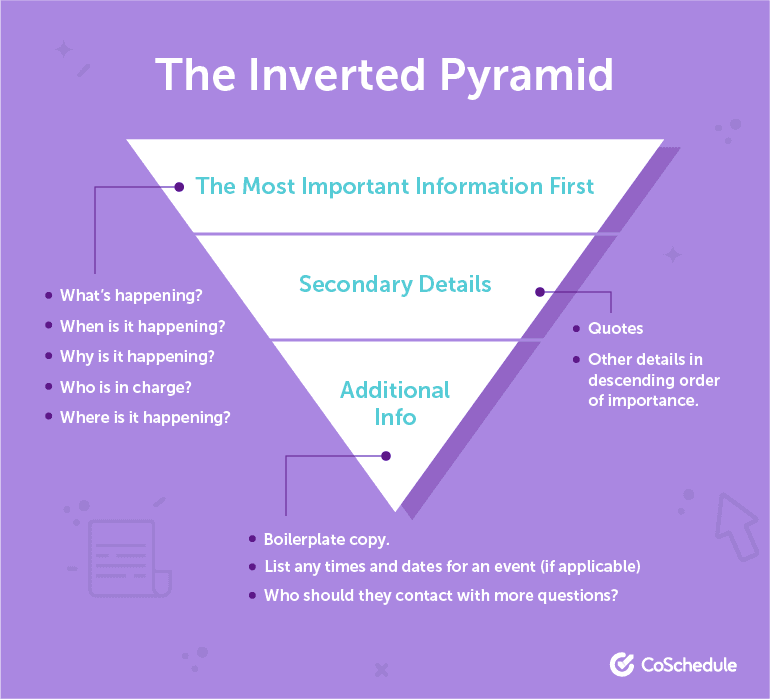 4. Include Useful Quotes
One of the most critical parts of your press release is including a quote that writers will be able to pull and use in their own story. Remember, reporters, and writers, are already super busy. The more work that you create for them, the less chance they will have of covering your story. Here's a basic example from Bobcat Company[10]: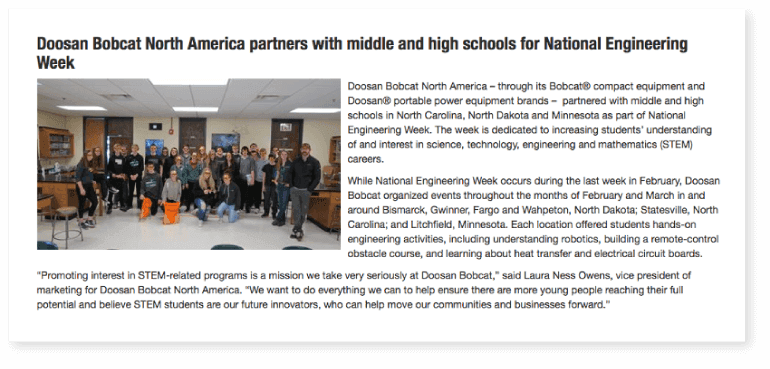 The quote at the end is clear, and can easily be copied and pasted into a reporter's news coverage.
5. Eliminate Fluff
Press releases should always be short and to the point. Reporters and editors are busy people.
6. Follow AP Style
Journalists follow AP style, and you should, too. This will make your information easier for them to use. Visit APStyleBook.com[11] to buy a physical copy or digital subscription, and make sure your writing conforms to this common standard.