Free Grammar Checker 2021 – Compare to Grammarly
Maybe you've just recently started writing content for blogs or perhaps you've joined a copywriting agency. In such a scenario, you must be eager to improve and expand your writing skills. One of the greatest favors you can do to yourself is to understand that you can never completely perfect your writing, as it is a constant process of self-improvement.
One of the most important aspects of writing, which should never be compromised upon, is your grammar. Your grammar while writing for an audience is much more important than you think. Lack of good grammar can take away the focus form your words and content, instantly reducing its quality. Now you might think that your personal editing and proofreading skills are good enough for you to be able to adequately fix your spelling and grammatical errors. The truth is, however, that even the most famous and most accomplished of writers hire professional editors and proofreaders to double, and even triple check their content.
But of course, you can't go on spending a fortune on editors and proofreaders and that is why we suggest the next best thing that is suitable for both, amateur bloggers and content writers. A well-reputed and reliable grammar checker tool can be a trusted tool for checking and detecting the slightest of errors within your content that failed to catch your attention.
---
What is the best grammar checker?
| | | | | | | | |
| --- | --- | --- | --- | --- | --- | --- | --- |
| | Grammarly | Ginger | WhiteSmoke | ProWritingAid | LanguageTool | SpellCheckPlus | Hemingway |
| Free Version | yes | yes | no | yes | yes | yes | yes |
| Mobile Version | yes | yes | yes | no | no | no | no |
| Browser Extension | yes | yes | yes | yes | no | no | no |
| Microsoft Word | yes | yes | yes | yes | yes | no | no |
| Plagiarism | yes | yes | yes | yes | no | no | no |
| Price(yearly) | $139.95 | $89.88 | $119.95 | $40 | $93 | $15 | $19 |
Grammarly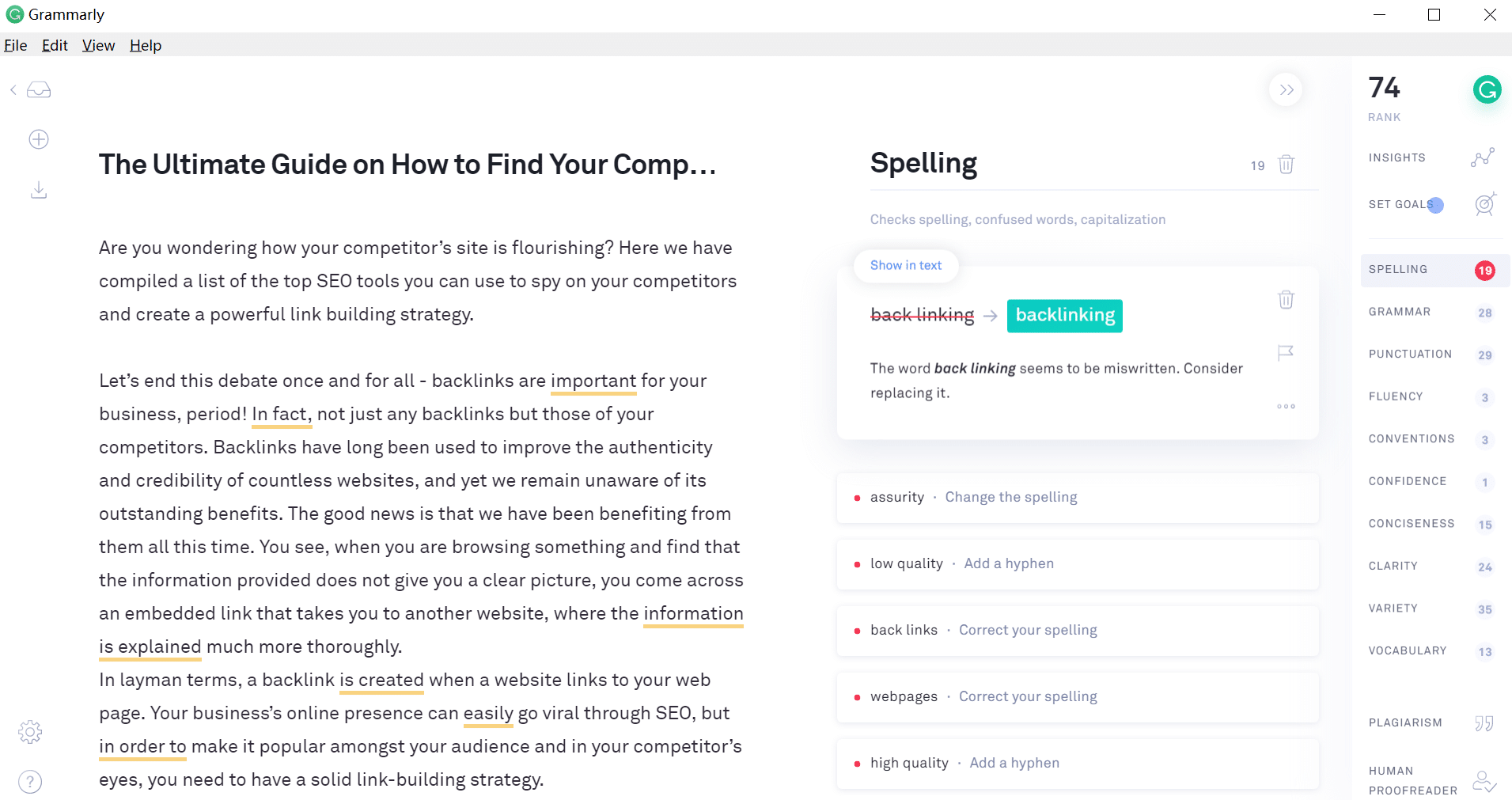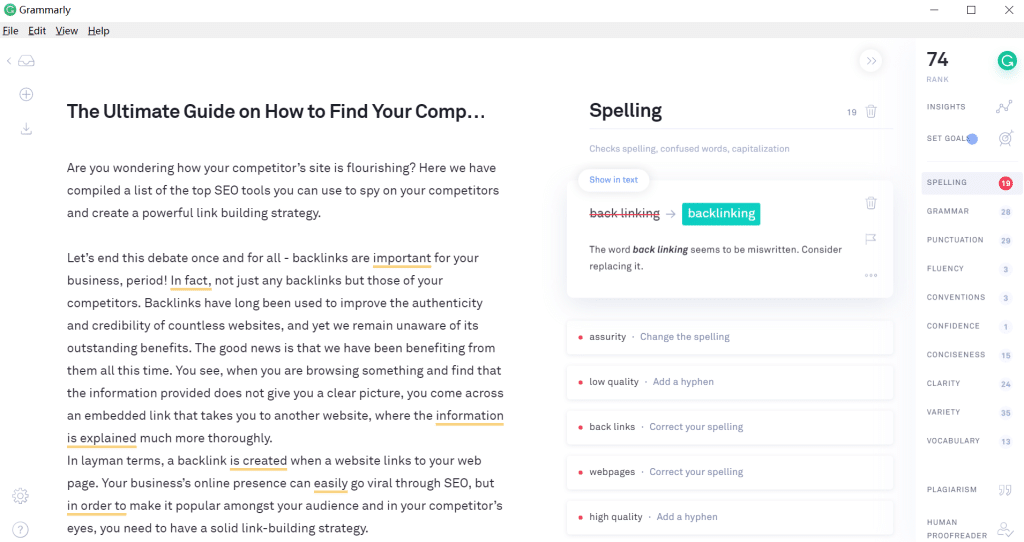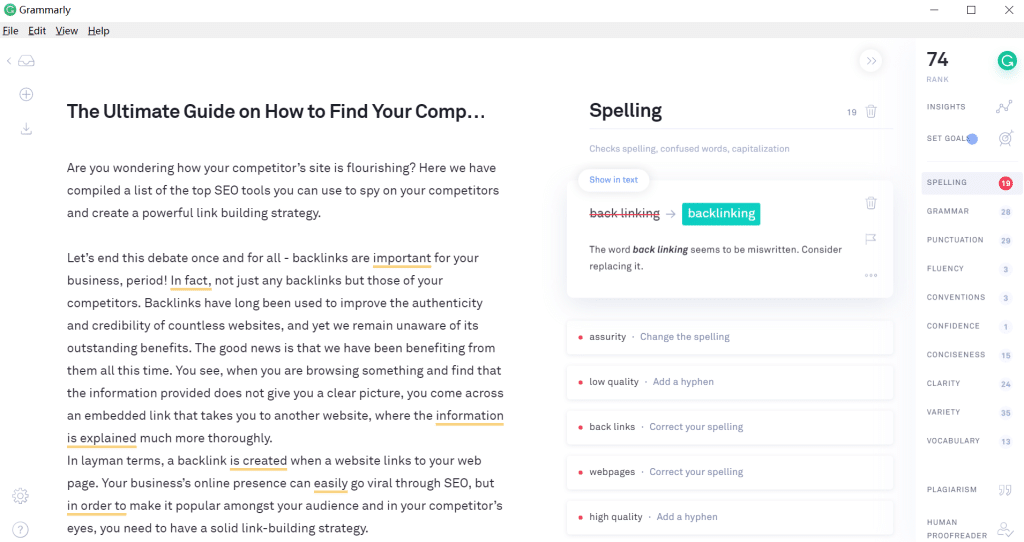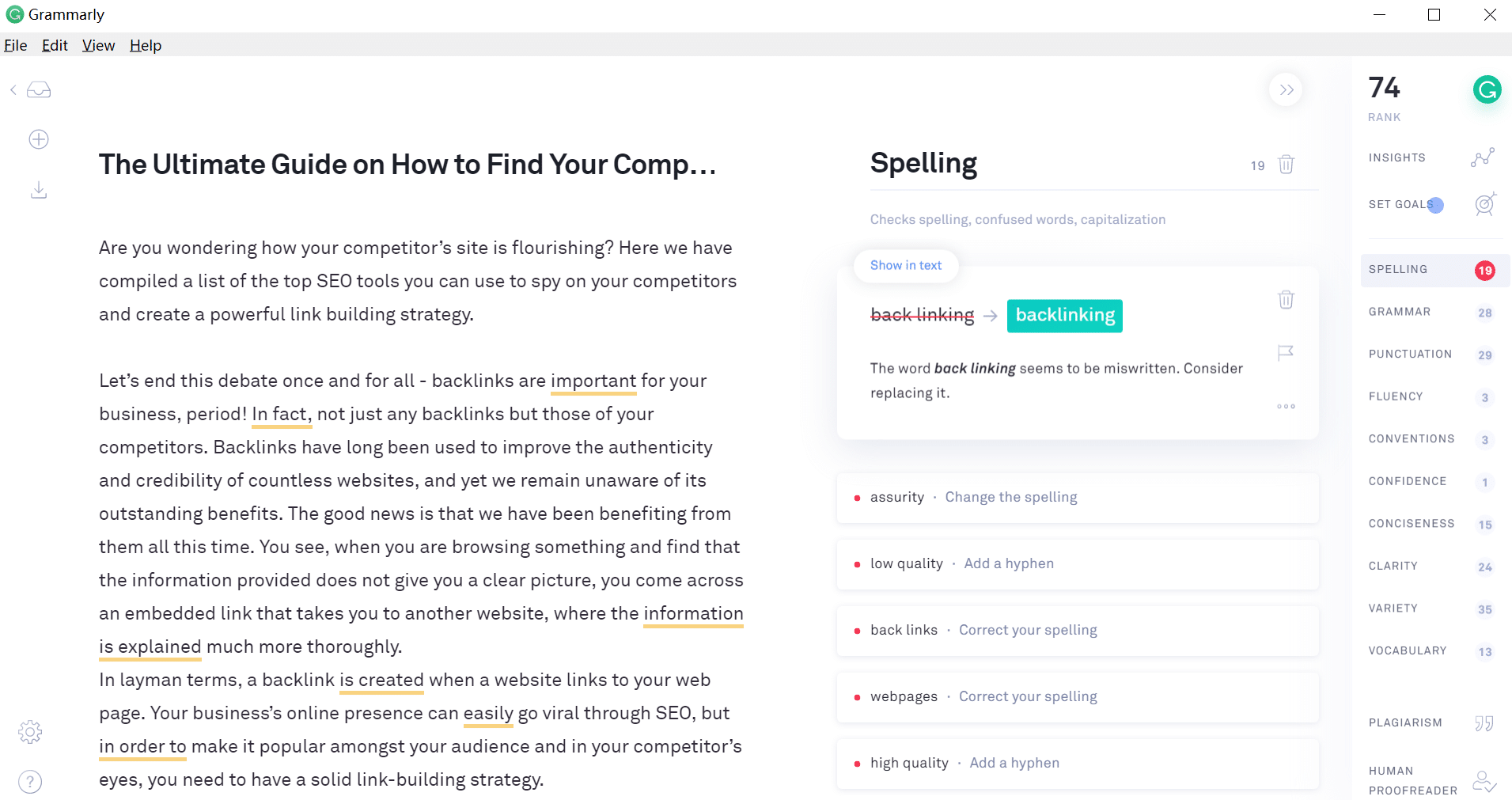 Grammarly isn't just one of the most popular grammar checking tools today, it is one of the very best! A great marketing campaign and a better set of features and offerings have quickly made Grammarly the preferred grammar checker of choice for many. Easy to use and easier to get started with, Grammarly works well online and will automatically check your text for errors once you've incorporated its extension into your browser.
There is a free version that works quite well, detecting and correcting over 150 types of different errors. Grammarly's online text editor can be used to either write text directly or copy and paste the text you've already written into it to let the grammar checking tool do its magic. The paid version will cost you around $30 per month and will check for over 250 types of grammatical errors. Other great features in the paid version include plagiarism detection and citation suggestions.
Features
Available for desktop, mobile, and browser extensions
Corrects errors and also offers an explanation
Detects the most common errors with ease
60% error detection rate, which is much better than most other grammar checkers
Grammarly is, without a doubt, one of the best grammar checking tools you can get your hands on. Its free version will meet most of your needs and the browser extension works very well for everything you type online. However, once you've signed up for the free version of Grammarly, the service constantly reminds you and wants you to upgrade to the premium version. It will remind you of all the features you're missing out on and even hint that there is much more wrong with what you've written that can be corrected by the premium version. While those claims might not be false, they are a little bothersome, which is why we recommend upgrading to Grammarly premium if possible.
PROS:
Best error detection
Easy to use and install
Works great online
Easy integration with MS Word and online text boxes
CONS:
Premium version is pricey
Aggressive advertisement to upgrade to the premium version
Ginger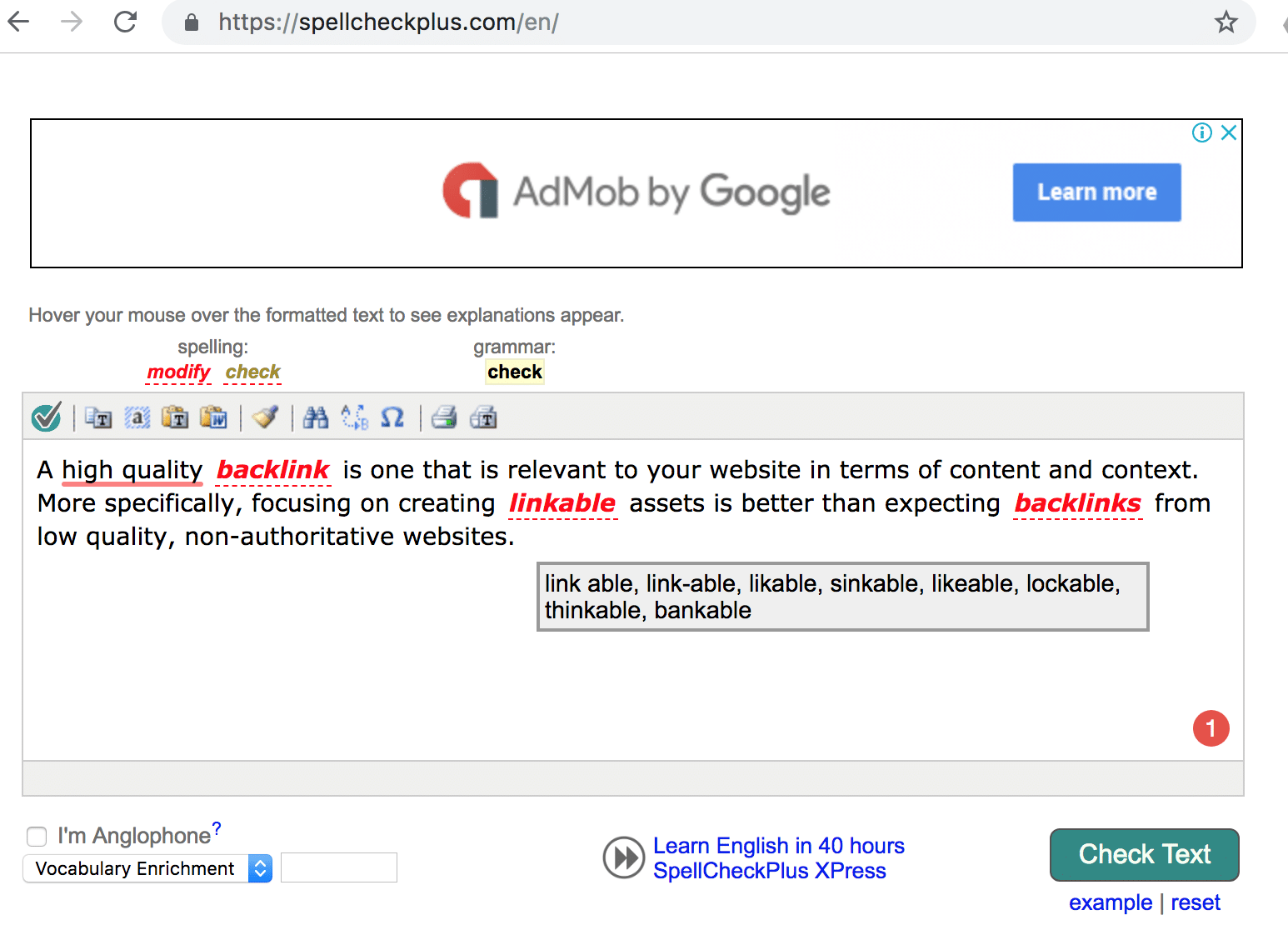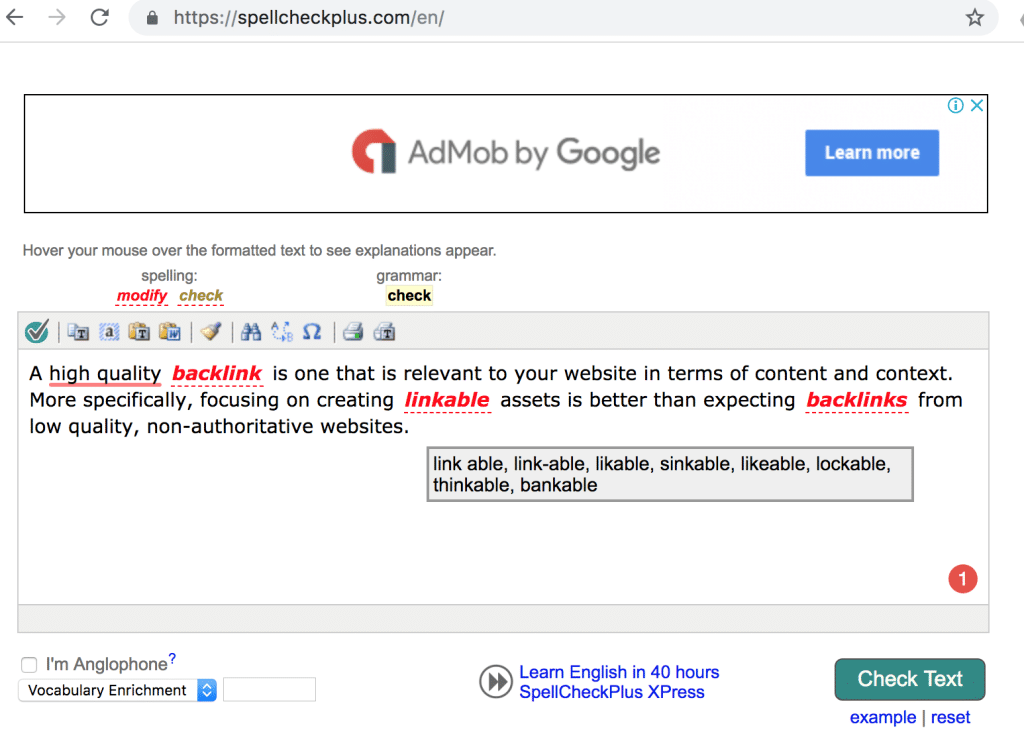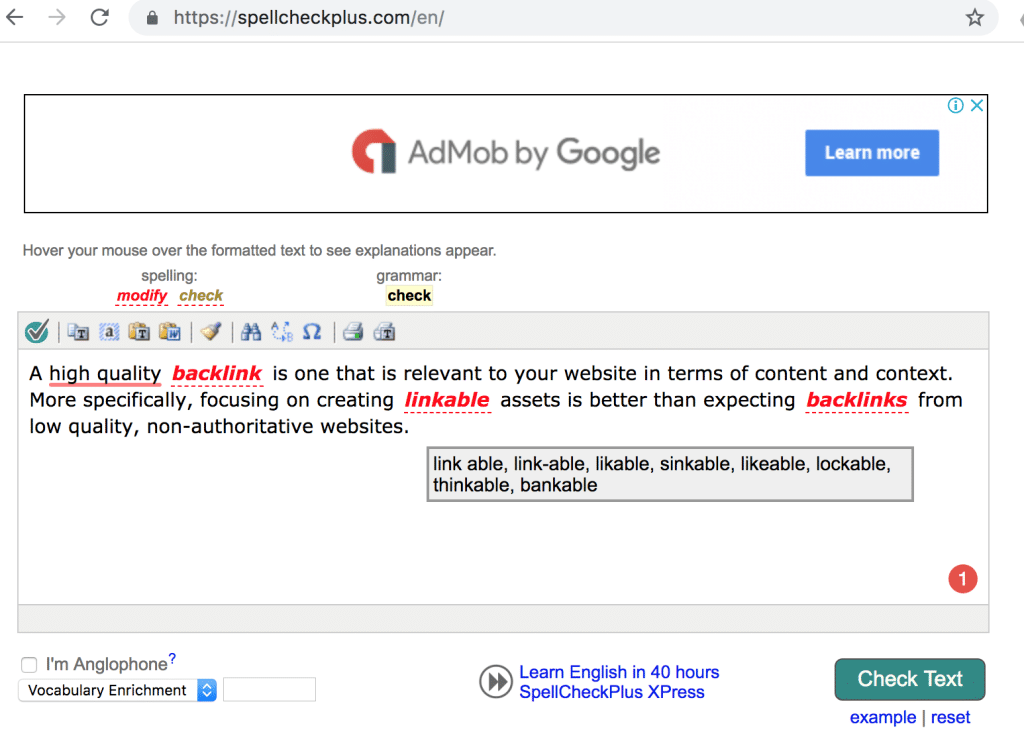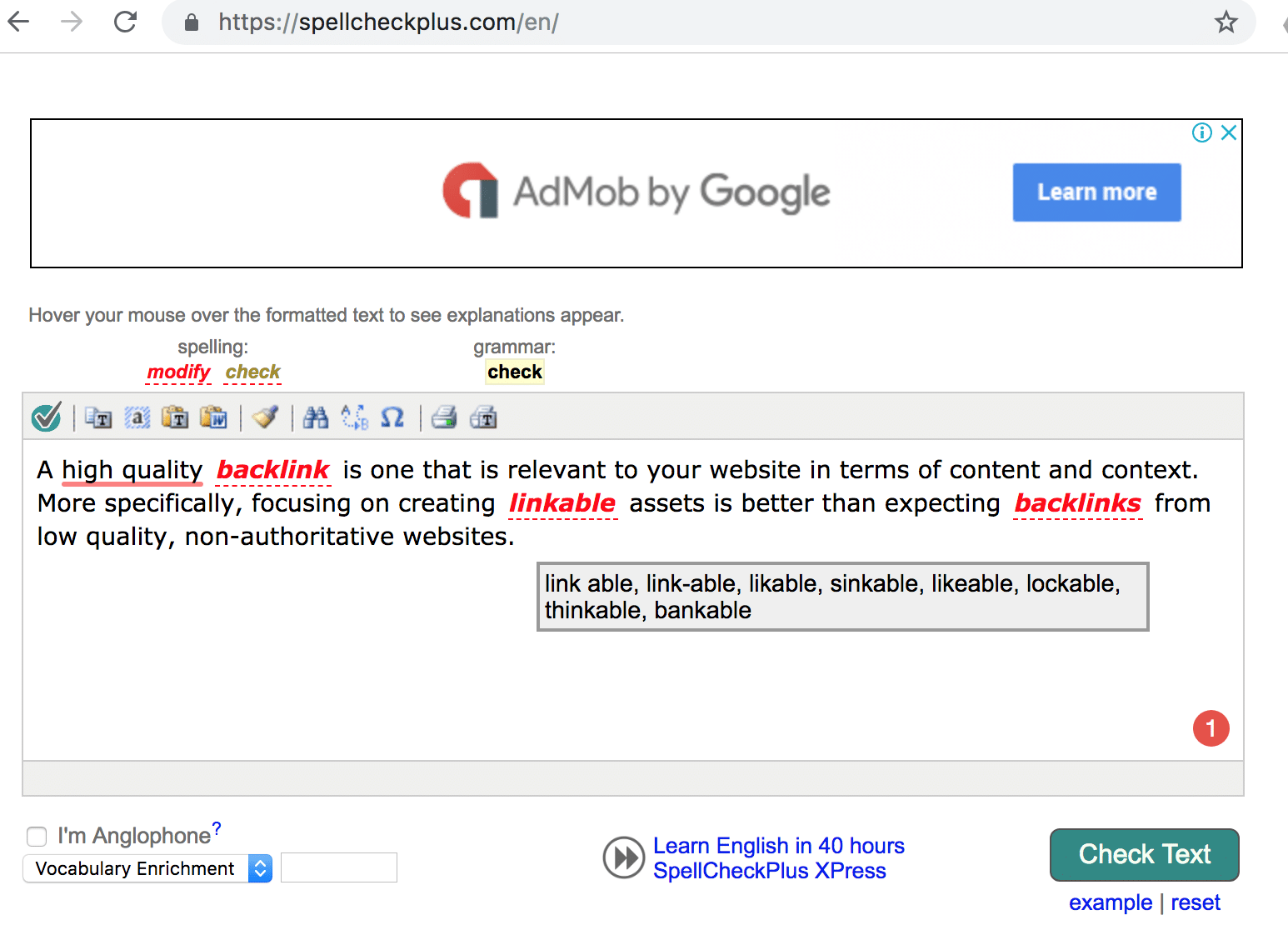 Ginger is another excellent grammar checking tool that you can also get for free and start trying out right now. It is quite easy to install and run, so you shouldn't have a problem with trying it out and seeing if it works well enough for you. Although it catches much fewer errors compared to Grammarly, it is still a good and solid choice for most users. Apart from the software, Ginger also works online, and you can use the service to correct any text or written content that you think needs checking. Apart from detecting mistakes and spelling errors, Ginger also examines the context of the mistake to make the best possible suggestion to you.
Features
Three different plans including a free version
Paid versions offer support for browsers and mobile phones
Easy to install and run
Catches syntax related errors
Easy integration with MS Word
Ginger is one of the easiest to install grammar checking tools you will find. Its free version can be downloaded and installed very easily and quickly. It does a great job of detecting syntax errors and even claims to examine context before making suggestions. However, the suggestions made by the tool aren't always perfect. Browser extensions and mobile versions are only available for paid versions.
PROS:
A basic free version
Ginger Premium can be purchased for a lifetime with a single payment of $40
Works well with MS Word
The online service can be used for free without having to download or install anything
CONS:
Doesn't detect all errors
Offered suggestions aren't usually the best
The free version doesn't detect enough number of necessary errors
WhiteSmoke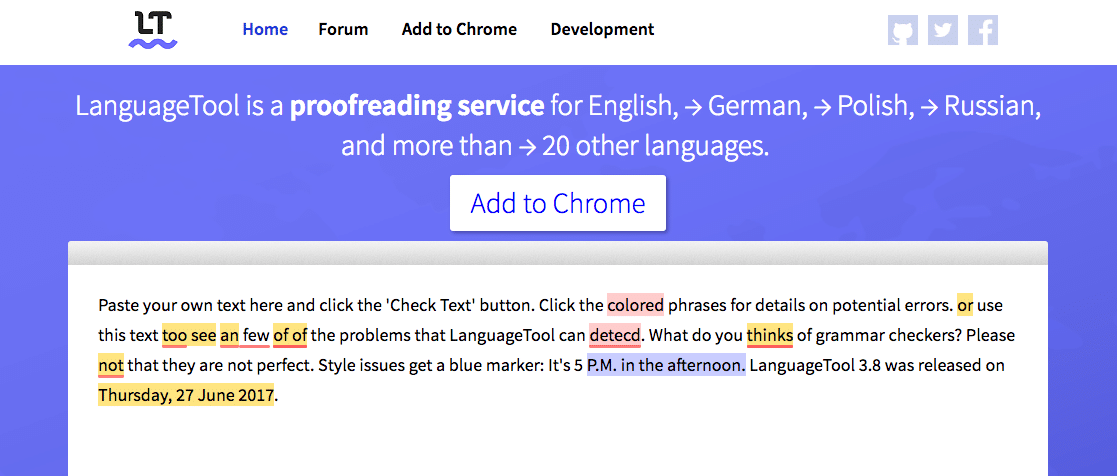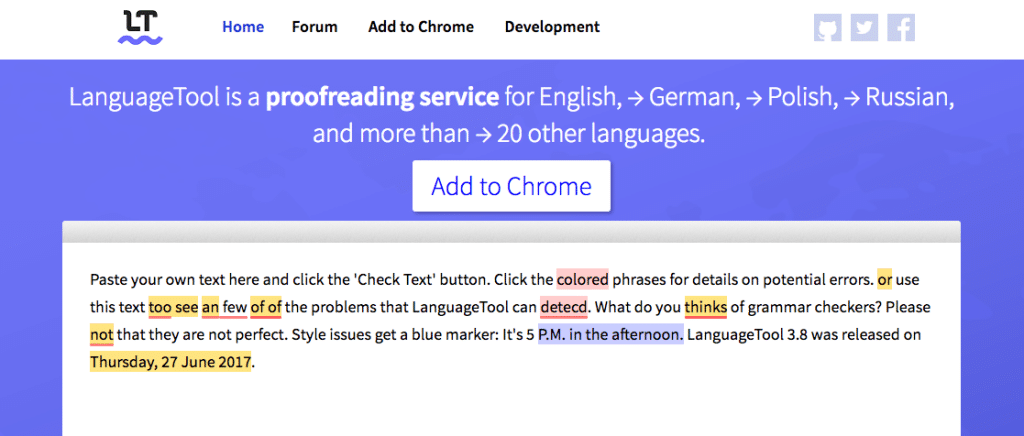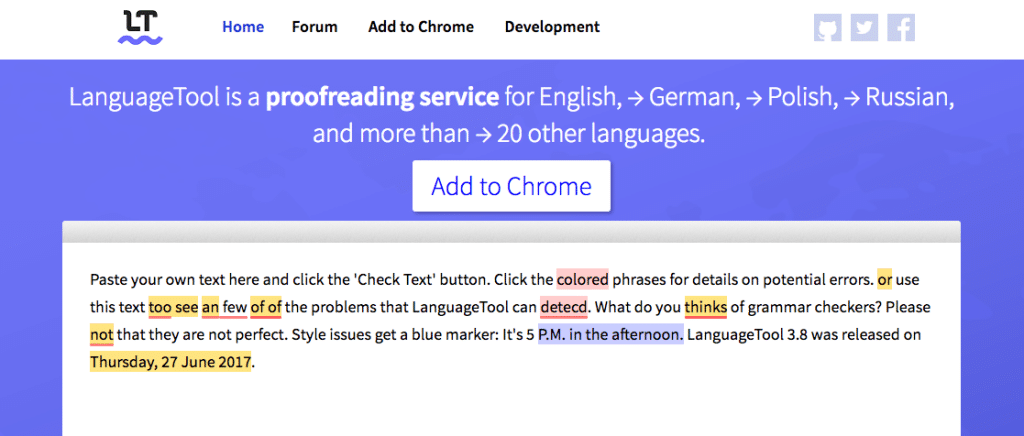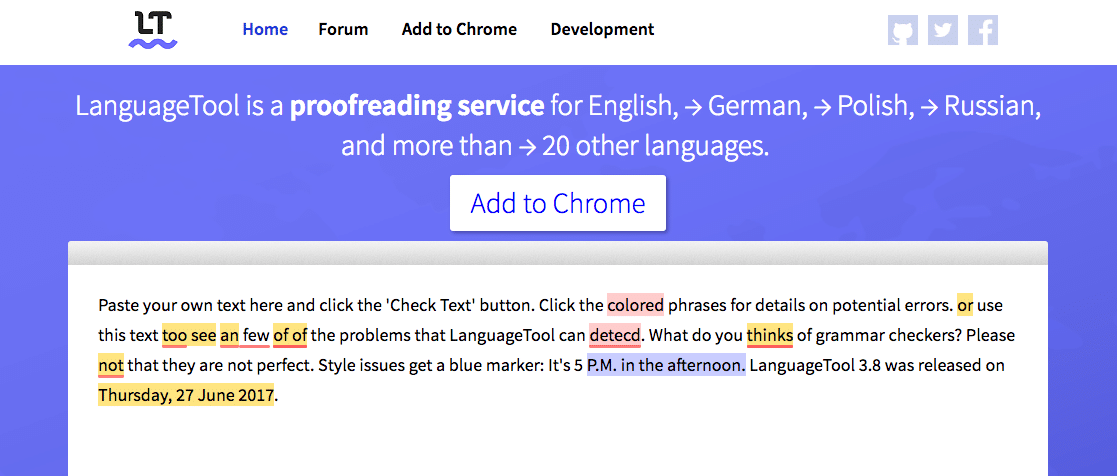 Number two on our list is WhiteSmoke, another great grammar checking tool. If Grammarly was too pricey for you, WhiteSmoke solves that problem by being comparatively cheaper. It offers one of the easiest to use interface with a clean and uncluttered design. It is nowhere near as good as Grammarly, but WhiteSmoke will check syntax and spelling for you in real time. Its online performance isn't as good as Grammarly, but it still gets the job done.
WhiteSmoke does not have a free version, however, and only allows you to choose from three different paid plans according to your needs and requirements.
Features
Three different plans to choose from
Cheap – $9 monthly payments
Available for all desktop, mobile, and browser extensions
Generates a report that can review and rate your writing
While WhiteSmoke does offer much lower rates, it does not offer a free version. The lower price also comes at the cost of lower performance and accuracy. It will often detect a lot of errors but fail to provide accurate and good enough suggestions for all of the errors it has detected. It isn't a tool you can blindly trust to correct your writing.
PROS:
Easy on the pocket/not too pricey
Easy to use
Clean design and interface
Works well enough for users with mediocre needs
CONS:
Doesn't always offer correct suggestions
No free version
Can become cumbersome when doesn't work well enough online
ProWritingAid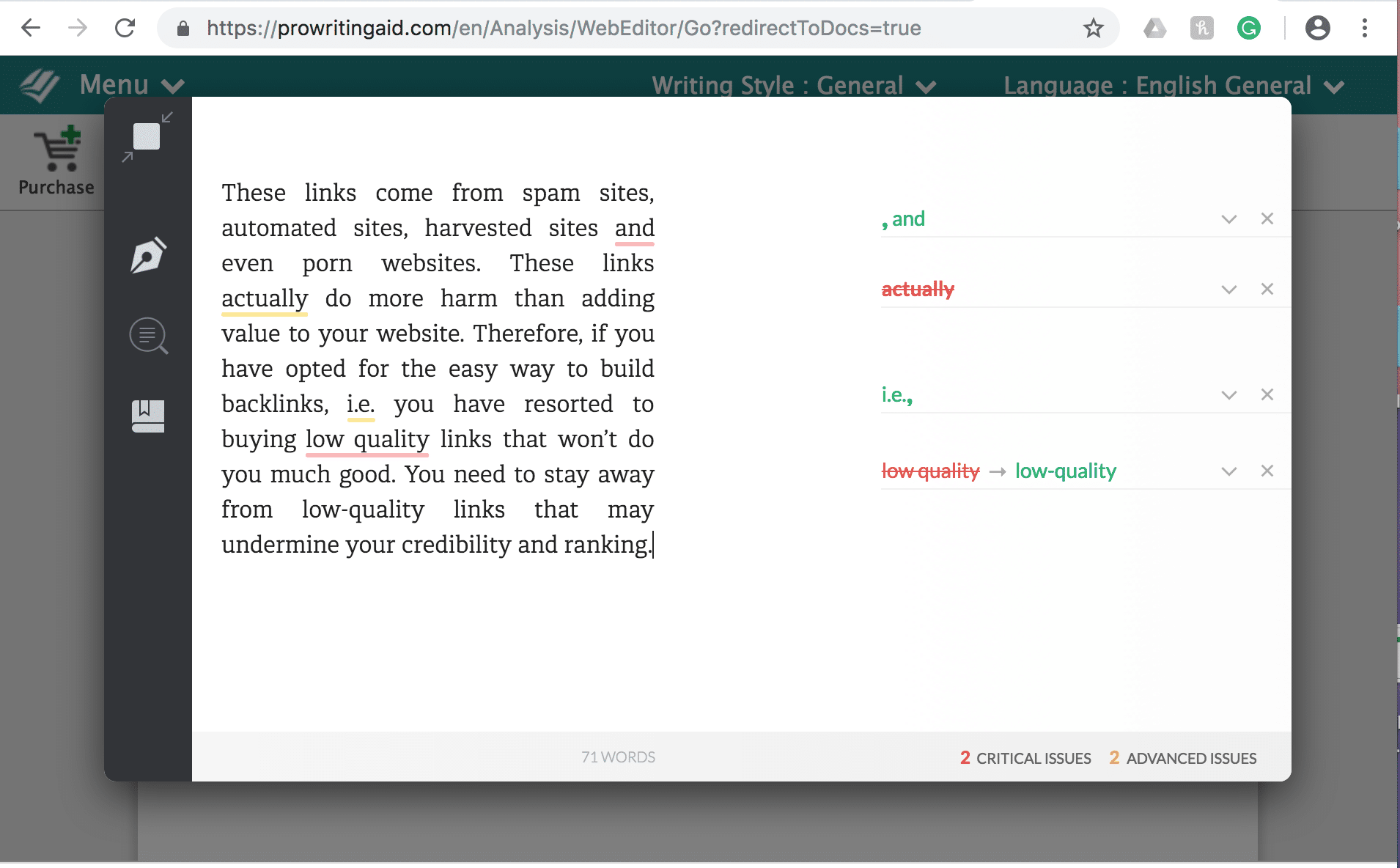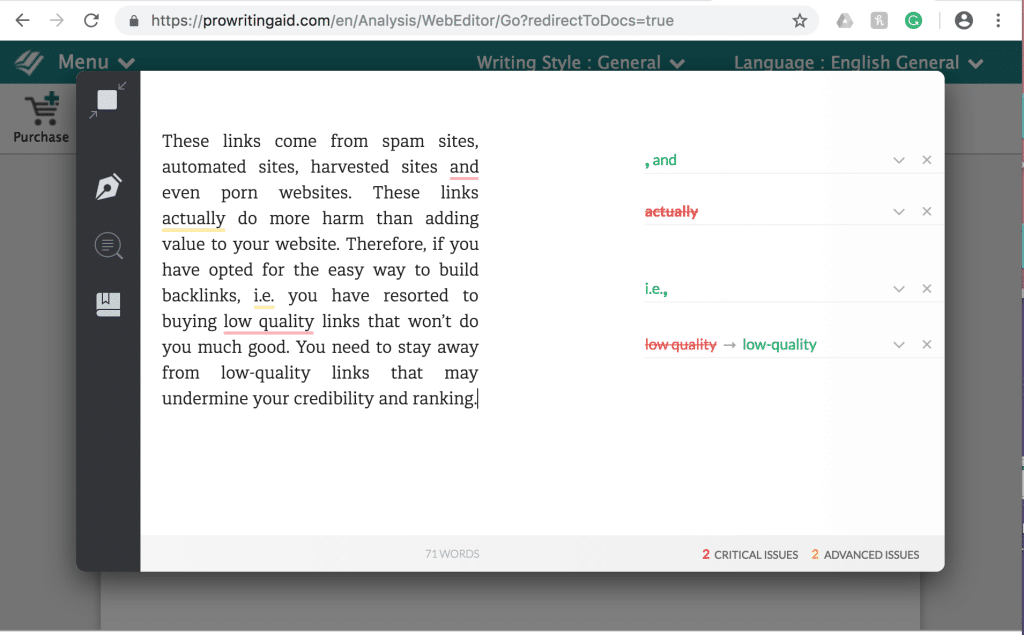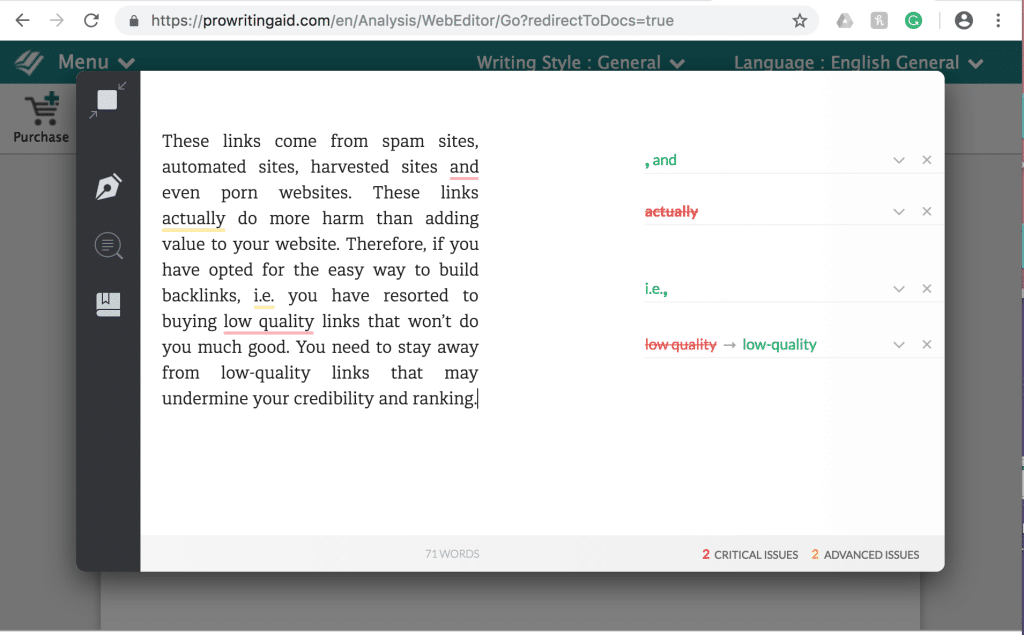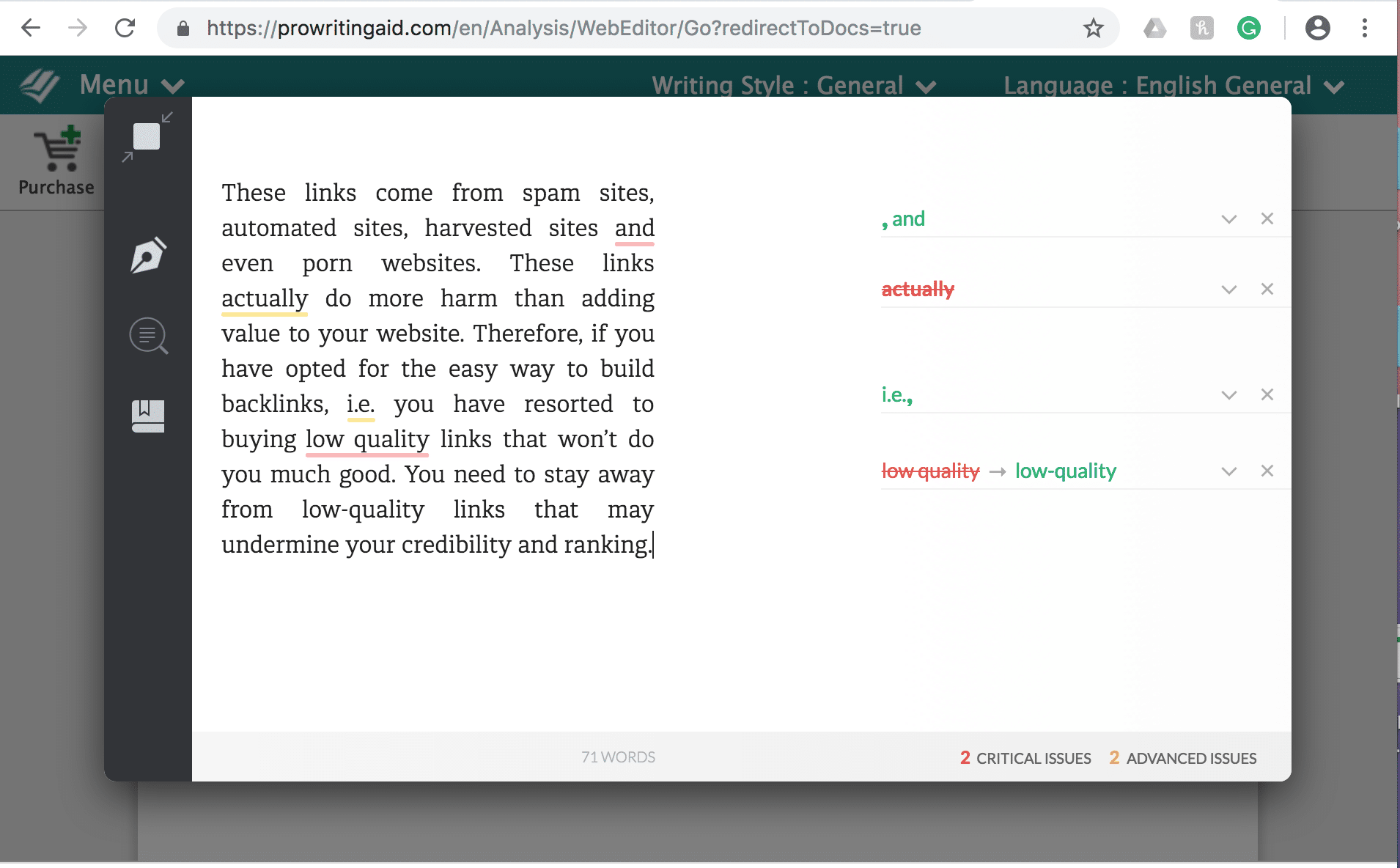 ProWritingAid is a grammar-checking tool that goes beyond normal grammatical mistakes and correction capabilities to even detect and point out structural flaws in your writing. This makes it one of the best tools for students and people learning to write better. The software is one of the best at finding problematic repetitions in sentences. It does a great job of correcting some of the most common problems in writing structures and also provides users with substantial feedback to help them fix their mistakes.
Once the tool has highlighted the areas with errors or room for improvement, you can simply go and fix those errors. Here you'll also find a text search field that will let you look up definitions and synonyms for words to help you apply the best possible fixes to your writing.
Features
Detects style and structural errors
The free version is also available for use
Available for use with MS Word, Google Docs, Google Chrome, and Desktops
ProWritingAid offers a free version as well as a premium and premium+ version. The free version has its limitations, as it can only be used online and there is a limit to edit only 500 words at a time. The premium version offers integrations for Word, Chrome, and Scrivener, which the free version does not. The tool also isn't the best at detecting punctuation issues.
PROS:
The free version works almost as well as the premium versions at error detection
Structural and style-related error detection make it unique and excellent for students
Great at finding repetitions and run-on sentences
CONS:
The free version only works online
Only 500 words can be edited at a time
Doesn't correct errors in online text boxes
back to menu ↑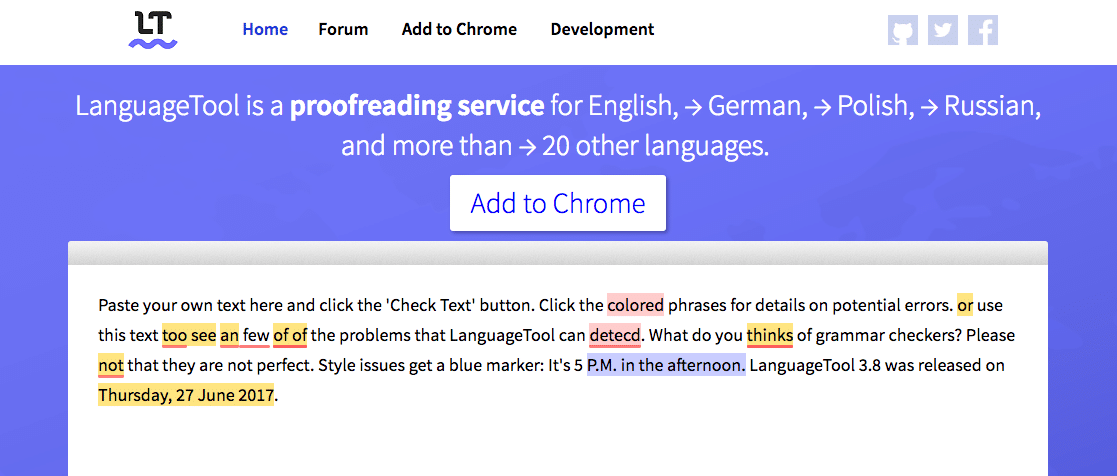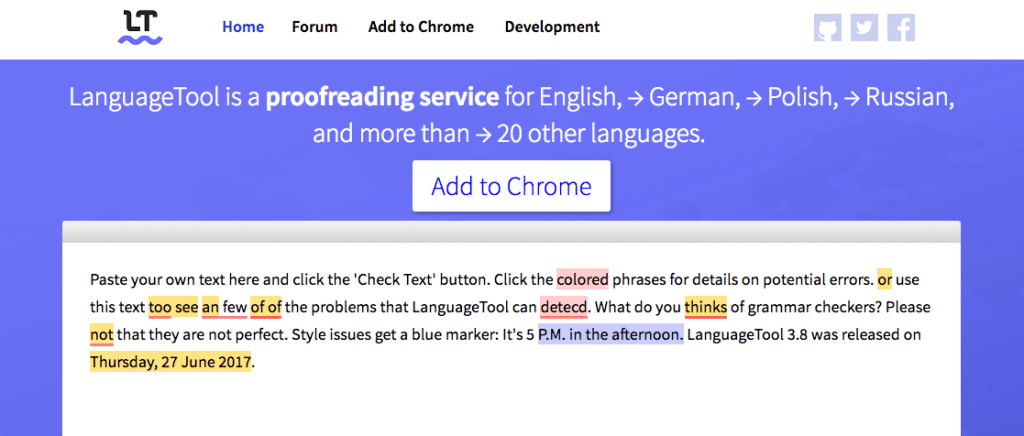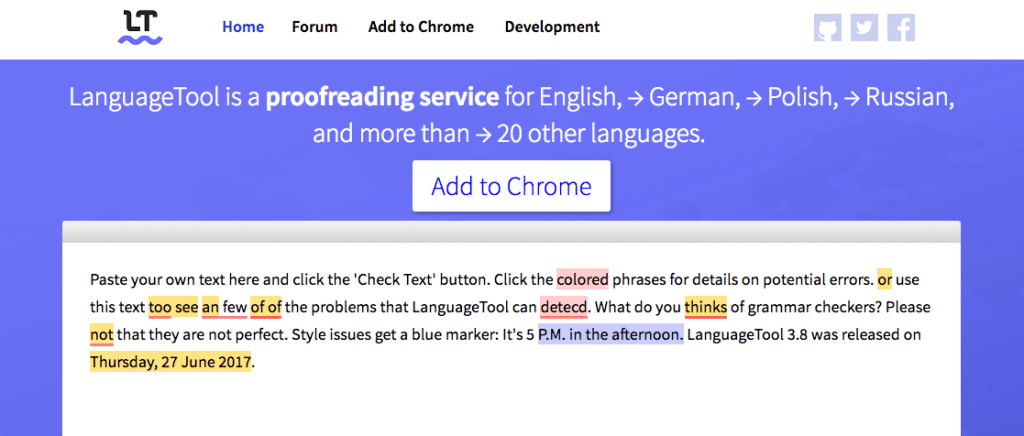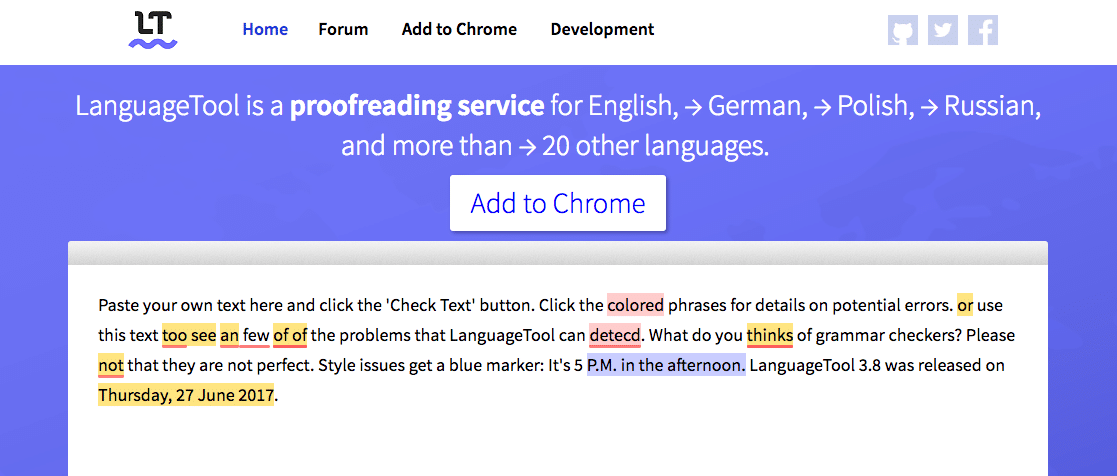 As the name already suggests, LanguageTool can detect and fix grammatical errors in several different languages. It can perform spell checks as well as grammar checks and then highlight the areas that need improvement. The highlighted areas can then be clicked for more information on the error and what you can do to fix it. LanguageTool does a sufficiently good job of detecting and fixing errors, but its most impressive feat is that it does so in multiple languages. Different types of errors are highlighted in different colors.
Features
More than 25 different languages to choose from
Three different pricing plans
A free desktop version
Online grammar checking service
All in all, LanguageTool does a decent job at fixing your errors. Its paid versions offer more features and remove any limitations associated with the free version. The option of 25+ languages is an incredible feature that makes LanguageTool one of the best tools there is for grammar and spelling correction in multiple languages. It is available for desktop but does not offer support for mobile or browser extensions.